Marc Ducret - Tower, vol.3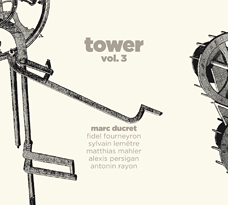 order aylCD-120 - €13.00
personnel:
Marc Ducret, electric guitar
Fidel Fourneyron, trombone
Sylvain Lemêtre, vibraphone, xylophone, marimba, percussion
Matthias Mahler, trombone
Alexis Persigan, trombone
Antonin Rayon, piano, celesta


cd tracks:
release information:
Recorded at Salle Colonne, Paris, France
on December 17, 18 & 19, 2012.
Cover design by Corinne Troisi & Stéphane Berland.
1 CD Digisleeve.
aylCD-120
Presenting the music of the sextet consisting of Marc Ducret (guitar), Antonin Rayon (piano), Sylvain Lemêtre (percussion), Matthias Mahler, Fidel Fourneyron and Alexis Persigan (trombones), which first performed in October 2011 and recorded in December 2012, a few weeks after the Tower-Bridge 12-piece orchestra had a tour of France and volume 4 was released.
Whereas the quintet from volume 1 and the quartet from volume 2 played selected pieces from the Tower 'repertoire', this ensemble plays comments on the music already played, either in the form of rewritten fragments or developments of excerpts/patterns, that give the music from the other two bands a new light, delivering all the harmonic or rhythmic keys to compositions previously heard in a radically different form.
This is the end of the cycle of releases which started exactly 2 years ago.
Or is it not? Who knows...