Marc Ducret - Tower, vol.4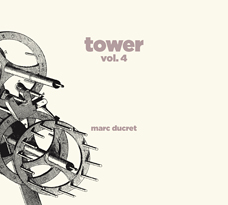 order aylCD-121 - €13.00
personnel:
Marc Ducret, acoustic guitars
cd tracks:
release information:
Recorded at Civitella Ranieri Foundation, Umbertide, Italy
on May 31, 2011 and in Matthieu Metzger's kitchen
on February 24, 2012.
Cover design by Corinne Troisi & Stéphane Berland.
1 CD Digisleeve.
aylCD-121
In January and February 2012, Marc Ducret presented the music of the « Tower » cycle during a solo tour of Scandinavia and the Baltic countries.
"Playing the music of «Tower » on my own, having previously performed it with a quartet (see volume 2), a quintet (see volume 1) or a sextet (see volume 3), is a way to bring out certain aspects of the compositions, certain possibilities for development that are distinct from working with a group. Solo improvisation allows faster decisions, and the building of « bridges » between pieces; it is also an opportunity to re-assemble parts of different pieces in a totally different order, offering a new vision of the same music.."
While waiting for the release of volume 3... which will present the music of the sextet consisting of Marc Ducret (guitar), Antonin Rayon (piano), Sylvain Lemêtre (percussion), Matthias Mahler, Fidel Fourneyron and Alexis Persigan (trombones), which first performed in October 2011 and will record in the studio in late 2012 with a release planned for the first half of 2013.
So, a story to be continued...