Marc Ducret - Tower, vol.2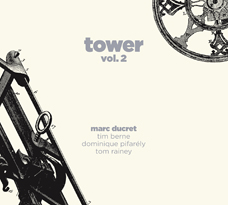 order aylCD-119 - €13.00
personnel:
Marc Ducret, el. g
Tim Berne, as
Dominique Pifarély, vln
Tom Rainey, dr
cd tracks:
release information:
Recorded on September 24 & 25, 2010
at Studio Sextan, Malakoff, France.
Cover design by Corinne Troisi & Stéphane Berland.
1 CD Digisleeve.
aylCD-119
The second volume of the Tower project, an attempt at rendering with sonic means, the poetry and emotions conveyed by a short chapter in Vladimir Nabokov's Ada or Ardor, presents guitarist Marc Ducret in the company of long-time collaborators Dominique Pifarély (violin), Tim Berne (alto sax) and Tom Rainey (drums). Dedicated to the second half of the Tower 'repertoire', this offering showcases the four musicians at the top of their game, the bass-less line-up and peculiar sound of the entwined violin and alto sax leaving room for the guitar and drums to chose their roles throughout the pieces. The new compositions, although fully differentiated and autonomous, sometimes unfold with thematic motives and variations reminiscent of the ones presented on volume 1, therefore bringing feelings of familiarity and "déjà entendu" to the music.

Order our CDs directly using

reviews