Marc Ducret - Tower-Bridge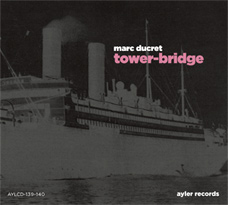 order aylCD-139-140 - €20.00
personnel:
Kasper Tranberg, trumpet
Dominique Pifarély, violin
Tim Berne, alto saxophone
Matthias Mahler, trombone
Fidel Fourneyron, trombone
Alexis Persigan, trombone
Frédéric Gastard, bass saxophone
Antonin Rayon, piano
Sylvain Lemêtre, percussion
Tom Rainey, drums
Peter Bruun, drums
Marc Ducret, electric guitar
cd tracks:
release information:
Recorded at Pôle Sud, Strasbourg, France on November 15, 2012
& at Salle Paul Fort, Nantes, France on November 21, 2012.
Cover artwork by Stéphane Berland.
2 CD Digisleeve + 2 booklets.
aylCD-139-140
The 12-piece-band live recordings of the complete Tower 'repertoire', from two concerts during the 2012 tour, gathering all musicians from the 4 volumes of the Tower cycle (see vol. 1, vol.2, vol.3 and vol.4 for the whole story) on one stage.
Order our CDs directly using

reviews