In the works...
2015 schedule is slowly taking shape with a number of projects at various stages of completion.
After the recording last december of a new Marc Ducret (Extended) Trio album with Bruno Chevillon (double bass), Eric Echampard (drums) AND GUESTS, we're currently working on selecting the music from the sessions before entering the mixing stage.
The same goes with Joëlle Léandre's Can You Hear Me?, which was recorded on the occasion of two concerts at Le Petit Faucheux in Tours and L'Arsenal in Metz in January. It will present the music of the tentet consisting of Joëlle Léandre (double bass), Valentin Ceccaldi (cello), Séverine Morfin (viola), Théo Ceccaldi (violin), Jean-Luc Cappozzo (trumpet), Christiane Bopp (trombone), Alexandra Grimal (tenor sax, soprano sax), Jean-Brice Godet (clarinets), Guillaume Aknine (electric guitar) and Florian Satche (drums, percussion).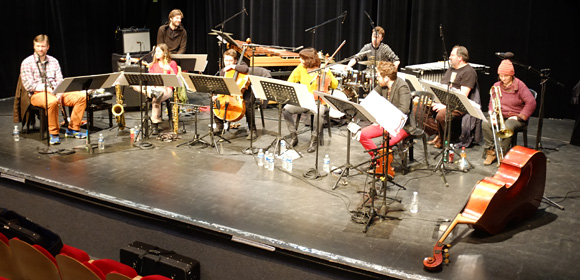 In the meantime, the band Spring Roll, including Sylvaine Hélary (flutes & voice), Antonin Rayon (pianos, synthesizer), Hugues Mayot (saxophones, clarinets) and Sylvain Lemêtre (vibraphone, percussion) are currently finalizing a double album, due in April, and it's sounding better and better every day.
As for the rest, we've got a few surprises in store, but we'll keep them that way for now. Stay tuned.