CALL FOR SUPPORT
I'm sincerely sorry to bother you with that kind of things, but... Sure I could go to indiegogo, kisskissbankbank (or else) and try my luck, however I'm in a hurry to announce that the label is desperately in need of direct (website) orders. For the first time in years, the accounting shows that we'll soon be out-of-business, whatever way we're looking at it. And you know what? Only half of you all faithful followers (here on the website mailing list, on facebook or on twitter) ordering a single release (although multiple-title orders are welcome too...) could make a huge difference and ensure that the releases I've got in preparation are not doomed before they can be brought to completion.
[STATEMENT]
In relation with the above message, I hereby solemnly declare that I, Stéphane Berland (just like my beloved predecessor Jan Ström) never ever took a cent from the activity and revenue of the label (having managed to provide food and shelter to my multi-species family using other means to 'make a living' for us), all of it having systematically been used to fund the next release, one after the other. Just to make sure you can't think I'm funding a pool or car or bowl of cat food. I'm really talking about Joëlle Léandre, Sarah Murcia + collaborators, and many others to come I'd like to think.
Thanks for your time reading my plea.
And many thanks to the (too) few (unfortunately) of you who already treated us with their orders these past months and weeks.
If you'd like to be informed further,
don't hesitate to sign up for our email newsletter
(we rarely send more than one a month).
Stay tuned.
IN THE WORKS...
[Latest EDIT: February 15th, 2016]

2016 schedule is very quickly written down (...), with one release being prepared at the moment and a few others on my mind.
Just out is Sarah Murcia's Never Mind the Future (see home page) which is receiving much praise already.
The next (and maybe only other one) to be released will be Joëlle Léandre's Can You Hear Me?, which was recorded on the occasion of two concerts at Le Petit Faucheux in Tours and L'Arsenal in Metz last January (2015). It will present the music of the tentet consisting of Joëlle Léandre (double bass), Valentin Ceccaldi (cello), Séverine Morfin (viola), Théo Ceccaldi (violin), Jean-Luc Cappozzo (trumpet), Christiane Bopp (trombone), Alexandra Grimal (tenor sax, soprano sax), Jean-Brice Godet (clarinets), Guillaume Aknine (electric guitar) and Florian Satche (drums, percussion).
As of today, Can You Hear Me? is scheduled to be released in the course of April 2016.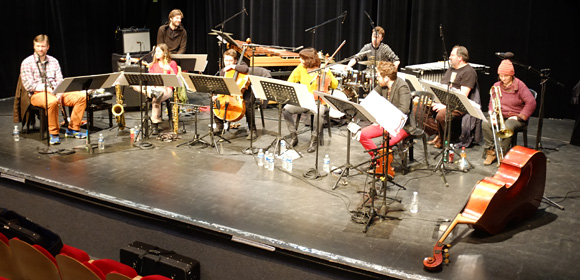 Currently 'In production/development' for late 2016 releases are:
- the guitar duet of Mary Halvorson and Noël Akchoté
- Daunik Lazro, Jean-Luc Cappozzo and Didier Lasserre in solo/duo/trio settings

As for other projects, further along the way, they will maybe never happen if sales remain as low as they have been the last two years. But could... and will then involve Heddy Boubaker (previously of the Zed Trio), Michel-Louis Blanc (a newcomer to the label), Noël Akchoté (solo?... In duet again?...), Kamilya Jubran (singer and oud player, teamed with Sarah Murcia and the 'IXI' string trio of Guillaume Roy, Régis Huby and Atsushi Sakai), Marc Ducret (for new 'adventures' together), etc.
Stay tuned, or not.