Théo Ceccaldi Trio + Joëlle Léandre - Can You Smile?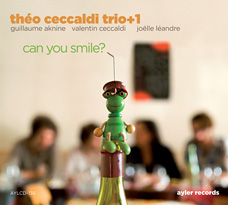 order aylCD-136 - €13.00
personnel:
Théo Ceccaldi, violin, viola
Guillaume Aknine, guitars
Valentin Ceccaldi, cello
Joëlle Léandre, double bass, voice
cd tracks:
release information:
Recorded at La Dynamo de Banlieues Bleues,
Pantin, France on July 10, 11 & 12, 2013.
Cover photo by Frédéric Netter.
2-CD Digisleeve (IMPORTANT: Please note that the described original title is now Out-Of-Print in its single form, so you'll receive it in a 2-for-1 2-CD Digisleeve, coupled with the Théo Ceccaldi Trio's first album "Carrousel". Just so that you don't order both. You'll get both for the price of one anyway. Cheers!)
aylCD-136
Since the release of Carrousel almost 2 years ago, whenever we went to listen to the trio of Théo, Valentin and Guillaume, we had the opportunity to discover an evolving repertoire, never trapped in the rarely exciting comfort of repetition. We happily welcomed the regular appearance of new forms and tunes, but also of new colors offered ​​by Théo's taking on the viola and Guillaume switching to acoustic guitar at times.
So, as we began discussing a recording with the new material, when Théo offered to further expand the range of the trio by inviting the 4 strings of Joëlle Léandre to join their usual 14 and thus bringing with them numerous new possibilities for the music, we imagined the best. Today, the best is here: neither a welcome addition or a one-time meeting, but the sound and feeling of a real band. As far as we're concerned, listening to this music instantly puts a smile on our face. What about you?