home » cd catalogue »

François Cotinaud's Klangfarben Ensemble - Monologue de Schönberg
François Cotinaud's Klangfarben Ensemble - Monologue de Schönberg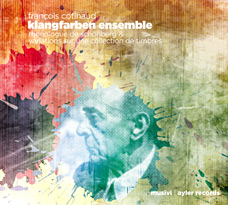 order aylCD/DVD-001 - €20.00
personnel:
Françoise Purnode, voice, acting
Valentine Quintin, voice
Marie-Laure Caradec, dance
Julie Salgues, dance
Deborah Walker, cello
Yves Robert, trombone
Andrew Crocker, trumpet
Luis Vina tenor, sax, bass clarinet, electronics
Emmanuelle Somer, oboe, english horn, bass clarinet
Florent Thiant, accordion
François Choiselat, vibraphone
Philippe Cornus, percussion
François Cotinaud, soundpainting
cd tracks:
Disc 1 | CD
Monologue de Schönberg
1. Monologue 1910 (part 1)
2. Monologue 1910 (part 2)
3. Monolog ein-zwei-drei
4. Monologue 1960
5. Monolog vier-fünf
6. Monologue 2010
7. Monolog sechs
8. Klang
9. Farben
Variations sur une collection de timbres
10. Variations 1
11. Variations 2
12. Variations 3
13. Variations 4
14. Variations 5
15. Temps compté (temps perdu)
16. Monologue 1960 (alternate)
Total time: 66'35

Disc 2 | DVD
Monologue de Schönberg & Variations sur une collection de timbres
A film by Patrick Morel
Total time: 30'24
release information:
Recorded and filmed at La Cartonnerie, Reims, France on March 8-9, 2012.
Cover artwork by Stéphane Berland.
1 CD + 1 DVD Digipack.
aylCD/DVD-001
"Klangfarben" means "colors of sound". After his works around poetry, François Cotinaud here makes a tribute to Arnold Schönberg and John Cage, through the acting of Françoise Purnode and nine musicians involved in soundpainting. He says: "Schoenberg was a fierce opponent of the idea that « serious » and « spontaneous » music are incompatible, but did advocate the notion of perfection in the work of art as the result of a logical and controlled process : « You have no feeling for harmony », he allegedly told his pupil Cage to discipline him. The language of Soundpainting is a shortcut between this spontaneity and a more conceptual approach. With over a thousand signed gestures, and thousands of combinations at its disposal, it can either summon pre-existing material, forge links between the body's language and the music, or call on the performers'sensitivity and abundant ideas, so they are not deprived of the unfolding drama."
"François' Soundpainting is fresh and adventurous – he doesn't take his compositions down a safe and narrow path – he takes his group to the edge of risqué … the place where art is realized." Walter Thompson (from his liner notes)
Silence is a mad music – madness is a daily breath.