Daunik Lazro - Some Other Zongs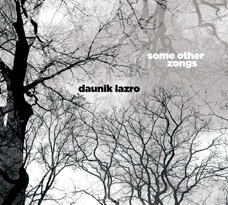 order aylCD-123 - €13.00
personnel:
Daunik Lazro, baritone sax
cd tracks:
release information:
1-2 recorded on April 5, 2010 at Europa Jazz Festival,
Collégiale Saint-Pierre-La-Cour, Le Mans.
3-6 recorded on February 18, 2011
in Saint-Merry church, Paris.
Cover photo by Frédéric Netter.
1 CD Digisleeve.
aylCD-123
Ten years after his first and only solo release Zong Book, baritone saxophonist Daunik Lazro delivers another collection of improvised solo pieces, recorded during the 2010 Europa Jazz Festival and in Paris' Saint-Merry church a few months later. If Lazro's creativity and technique are no longer to prove, it's really the highly personal quality of the sonic landscapes he's creating that strikes the most when listening to the music on this recording. On Some Other Zongs, Lazro displays a varied palette of multi-phonic sounds and colors, always blending the cerebral with the emotional, reaching the depths of his inner self and bringing music out of it, and this even when revisiting a tune like Joe McPhee's Le Vieux Carré and sort of paying homage to the blues roots of free music.
Order our CDs directly using

reviews