Daunik Lazro, Jean-Luc Cappozzo & Didier Lasserre - Garden(s)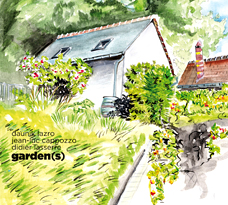 order aylCD-150 - €13
personnel:
Daunik Lazro, baritone & tenor saxophones
Jean-Luc Cappozzo, trumpet, flugelhorn
Didier Lasserre, drums
cd tracks:
release information:
Recorded June 17-19, 2016
in the Cappozzone, Luzillé, France.
Cover artwork by Bénédicte Gallois.
1 CD Digifix.
aylCD-150
Now available.
Description coming soon.
In the meantime, check out the preview soundclips
on the release page or bandcamp page.
Order our CDs directly using

reviews