Quatuor Machaut - Quatuor Machaut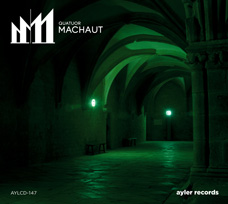 order aylCD-147 - €13.00
personnel:
Quentin Biardeau, tenor saxophone
Simon Couratier, baritone saxophone
Francis Lecointe, alto and baritone saxophones
Gabriel Lemaire, alto and baritone saxophones
cd tracks:
release information:
Recorded at Abbaye de Noirlac, Bruère-Allichamps, France
on May 8-11, 2015.
Cover photo by Jean-Pascal Retel.
1 CD Digisleeve + photo booklet.
aylCD-147

Quentin Biardeau and the Quatuor Machaut offer a re-visit as well as a set of 'extensions' to Guillaume de Machaut's Messe de Nostre Dame, the masterpiece and apotheosis of 14th century polyphonic music.
The quartet has been focusing its work on the exploration of timbres, textures, tones and dynamics, as well as sensations and feelings induced by this musical work that leaves considerable room for freedom and improvisation to all four musicians within a rich harmonic framework.
The result, at the intersection of the sacred and spectral music, offers the listener a mystical experience.
Order our CDs directly using

reviews