Matthieu Metzger - SelfCooking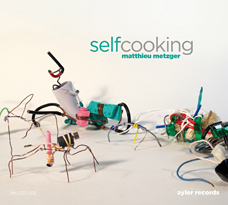 order aylCD-132 - €13.00
personnel:
Matthieu Metzger, baritone to sopranino family of saxes,
Systole-box, a pinch of Farfisa, Mopho and Yamaha RX 15.
cd tracks:
release information:
Prepared at Le Studio des Résistants with
some self-wired machines, systole plugins,
and a lot of audio hand-cooking.
Cover installation and photo by Patrice Le Garrec.
1 CD Digisleeve.
aylCD-132
Saxophonist Matthieu Metzger likes going beyond the traditional techniques associated with his instrument, notably thanks to his passion for electronic treatments – he's been designing real time transformation music software since he was a kid.
This 31-year-old investigator of musical genres loves to venture into dangerous territory. As well as being a fine jazz player/improviser and a member of the French ONJ (Orchestre National de Jazz), he's dipped into contemporary music, folk, rock, metal and mandingo.
Some of these compositions lurked in Matthieu's memory or his shelves, others were specially written for this occasion – the strange and exciting experience of planning an album. With no unity to justify, no tragic concept. As a matter of fact, it was all about the pleasure of cooking for you something abstract and joyful.
Order our CDs directly using

reviews