Marc Ducret Trio+3 - Métatonal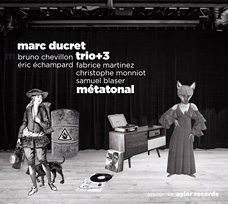 personnel:
Marc Ducret, electric guitar
Bruno Chevillon, double bass
Eric Echampard, drums
Fabrice Martinez, trumpet
Christophe Monniot, saxophones
Samuel Blaser, trombone
cd tracks:
release information:
Recorded live at Le Triton, Les Lilas, France
on December 2-6, 2014.
Cover artwork by Stéphane Berland.
1 CD Digifix.
aylCD-148
Guitarist Marc Ducret expands his trio of bassist Bruno Chevillon and drummer Eric Echampard with saxophonist Christophe Monniot, trumpeter Frabrice Martinez, and trombonist Samuel Blaser for a tour de force of dynamic and quickly shifting improv that both shreds and reflects.

Order our CDs directly using

reviews