Alexandra Grimal, Benjamin Duboc & Valentin Ceccaldi - Bambú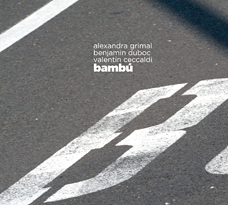 order aylCD-152 - €13.00
personnel:
Alexandra Grimal, soprano & tenor saxophones, voice
Valentin Ceccaldi, cello
Benjamin Duboc, double bass, voice
cd tracks:
release information:
Recorded May 24-26, 2015
at Ackenbush, Malakoff, France.
Cover photo by Bernard Minier.
1 CD Digifix.
aylCD-152
The open-ended, hard-edged trio of Alexandra Grimal (soprano and tenor saxophones, voice), Valentin Ceccaldi (cello) and Benjamin Duboc (double bass, voice) excels in creating dramatic presence. One might say that their kind of music is a "thinking person's" free improv. There are some moments when there is a meditative care and hushed expectancy. Other segments burst forward in vivid timbral colors. In the end, we get freshening music, both lyrical and other-earthly. This is surely a music beyond category. It does not care what it is called. It sings itself.
Order our CDs directly using

reviews